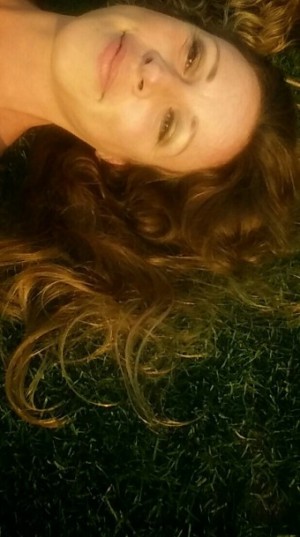 Greetings!  My name is Christina, and this is me luxuriating in the green grass of AT & T Park after a thoroughly fabulous game.  The Giants had a 10-3 win over the Padres, complete with a home run from pitcher Mike Leake in the 2nd inning.  Fans such as myself who had purchased an optional 'Yoga Day' ticket (one of the Giants' many awesome special events) were invited onto the field after the game ended, where we were treated to live music and an hour-long yoga class.  Stretching in the sunshine and barefoot in the grass, following a game of baseball and a cold beer, is a recipe for happiness in my world.
I was born and raised in the Bay Area and have a special place in my heart for the city of San Francisco.  SF Giants baseball is a HUGE passion of mine, but you probably guessed that by now.   Going to the games is hands down, bar none, one of my all-time favorite things to do, and I am an all-weather fan who loves her team even when they lose.  Once a game is over though, I don't wallow in it, even if it's a bad loss (hey, gotta keep things in perspective!)   Even though nothing beats a live game, I'm quite fond of the old-fashioned way to hear a ballgame… on the radio (Thank you KNBR 680AM, home to the best broadcasters in baseball!)  That being said, I'm an appreciator of many things old-fashioned …  record players, classic cars, paper books, good manners, and gentlemen who hold the door.
From the time I was very young, I've had an insatiable appetite for the written word.  I devoured books and always had one with me (still do).  Although I always enjoyed expressing myself on paper, I never put myself out there publicly.  Fortunately, I had an amazing creative writing teacher in high school who submitted one of my short stories in a college-level writing competition, and my story was selected as one of the winners.  That was a really cool experience, and helped me to feel more comfortable sharing my work.  My bucket list includes writing a book, as well as starting a blog  (one down!)
Music is my other passion, and how I love to sing!  I sang with a local band from 2011-2014, and after a  temporary hiatus I am now singing again with a newly formed blues band.  One of my dreams is to be the 'God Bless America' singer during the 7th inning stretch at a Giants home game (this only happens on Sundays though). Unfortunately, they stopped having live performances, and now only play an instrumental live organ version, or the recorded version by Kate Smith.  Maybe I can get them to change their mind someday…..
I am fascinated by the world and the interrelationship between people and the environment, and I spent several years studying geography, sociology and travel.  Quite the map geek, I love exploring back roads and scenic routes.  My inner wanderer surfaces at the ballpark too, so when I go to games I prefer to roam the park for a few innings rather than sit still the entire time (besides, AT & T is an incredible ballpark to roam!)  I thrive in the sunshine and fresh air, and the great outdoors is my sanctuary.  My most transcendent experiences have taken place out in nature (and ballparks are, in my mind, part of the great outdoors!)
I have a tendency to be private and introspective (alone time is a good thing), yet I simultaneously love to engage and connect with people.  An introverted extrovert, if you will.   I'll take genuine conversation over idle chit-chat any day of the week.  I get a lot out of life, and I never get bored.  Laughter is an essential ingredient in my world; I believe it was Charlie Chaplin who once said that "a day without laughter is a day wasted", and I wholeheartedly agree.  I am a lover of all things inspiring, and I see myself as a work in progress, dynamic not static, and constantly evolving. My life hasn't always been easy, but I've kept my joy and am proud of the fact that my challenges have made me better versus bitter.  When all is said and done, I hope be a force for good and a blessing to those whose lives I grace.  Including yours, dear reader!