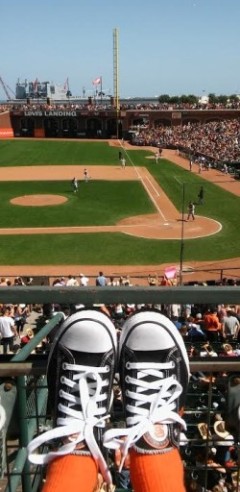 **Batting average:   quite simply, the number of hits divided by the number of times at bat. Get 40 hits out of 100?  You've got a .400 average.
**Grand Slam:   when your team has runners on 1st, 2nd and 3rd base. The next batter steps up, hits a home run, clears the bases and adds 4 runs to your team's score.
**Mays, McCovey and Marichal:  Willie Mays (Center Fielder), Willie McCovey (1st Baseman), Juan Marichal (pitcher).  3 of the most renowned players in Giants history (1950s/60s era)   The most common spot to meet at the ballpark is in front of the Mays Statue (3rd and King).   The Marichal Statue is in front of the 3rd St Bridge entrance, and McCovey Cove is the unofficial name of a section of the San Francisco Bay beyond the right field wall the park.
**All Star break:  Every year, when the season is halfway through, all baseball teams take a 5 day break for the All Star game, where the best players from both American and National leagues (voted by the public) combine to form 2 teams. The winner of the all-star game is the deciding factor in whether game 1 of the World Series begins in an American League ballpark or a National League ballpark. The Giants are a National League team.
**Bullpen:  In baseball, the bullpen (or simply the pen) is the area where relief pitchers warm-up before entering a game. A team's roster of relief pitchers (those who finish the game after the starting pitcher leaves) is ALSO referred to as "the bullpen", (and that is the sense in which I use it for my articles.)